Long form content wins when it comes to SEO.
Why? Because it doesn't feel like a marketing overture. It's educational and tells a story, rather than just trying to sell you something. As a result, it's seen as more authoritative by search engines.
But when it comes to email, the opposite is true: Long form content loses.
Why? Because it gets clipped!
But How?!
Have you ever spent hours crafting the perfect email, only to see an email client clip it?
The CTA is gone, the footer's deleted. (The frustration is real!) Not only has your email been cut off at the knees, but now your customers are likely annoyed. So, what happened?
Chances are your email was too big.
Long form content can range anywhere from 1,200 to 5,000 words. But this length is better suited for a website or downloadable paper, rather than stuffed in an email.
That's because many email clients, like Gmail, clip emails with a message size larger than 102 KB, and if you aren't using an email builder with QA built in like Email Guardrails it is all to easy to send a message that's in danger of being cut off. It's not just the text to blame: This size limit includes the HTML and CSS as well.
What it Looks Like
When the size of the email exceeds the 102 KB limit, Gmail hides the full content behind a "[Message clipped] View Entire Message" link.
This setting can't be turned off and is a definite pain for customers. Users need to click on the link to view an email message in full.
Alternatively, they can hit the "Print" icon at the top of the Gmail message to view the entire email. Either way, it's an extra step that could be avoided with smart email design and strategy.
Here's an example of a clipped email viewed on desktop:
Image source: Why Gmail Clips Your Emails and How to Avoid It
Mobile Viewing of Clipped Emails
Sure, a clipped email on your desktop or laptop can be super annoying. But what about mobile, with its small portrait-oriented screen?
If an email gets clipped, it might not look the same as it would on a bigger monitor. That's particularly concerning, as 61.9% of emails are read and 40% of online transactions are completed on mobile.
What's more, nearly half of mobile users will switch to your competitor after a bad experience with your mobile site. Yikes!
Check out these examples of clipped emails on different mobile phone platforms:
Image source: How to Avoid Gmail Clipping your Emails
Note how it goes a little longer on iPhone than Android when it comes to displaying the clipped message. The company provides a blog teaser and a large CTA to view the rest of it on their website. But they still let advertising rule a large part of the real estate.
Any additional information is then clipped on Android, and is clipped mid-paragraph when displayed on iPhone. Also, the unsubscribe and copyright information is left off — read on to discover the impact of such omissions.
Never worry about Gmail clipping again!
Email Guardrails is an automated checklist that tests your email against best-practices for deliverability and accessibility, that runs behind the scenes for every email you create.
What's the Cost of a Clipped Email?
Good question. If Gmail clips your emails, you may experience the following, pricey consequences:
Loss of click-throughs
Your potential customers and subscribers may consider "View Entire Message" either an obstacle or a waste of time (or both). If that's the case, they may delete your email without even downloading the full content. There's also the risk of users not seeing the "view entire message" link, as it's often in very small font at the bottom. This defeats the purpose of even showing the hyperlink in the first place.
Lack of optimized metrics
When Gmail clips your message, it also cuts the tracking code that tells you whether an email has been opened or not. So, if you want to keep your metrics in sync with your open rate reports, ensure emails are under 102 KB.
Loss of vital footer info
A clipped message doesn't just mean the value of your message is gone. It can also cut off legally-required information such as unsubscribe instructions or a copyright label that resides in the footer.
Increased spam reports
Additionally, if the unsubscribe link is gone, users may report your message as spam. This can put you at risk to be dinged by Gmail if your campaign exceeds a 0.2% spam rate. An increase in spam reports can drastically affect your sender reputation and deliverability. Not exactly the marketing metric you want to excel at.
Presentation problems
You work on every single email for hours or even days, when you count all the workflow and approval processes that go along with it. Then — after all that sweat and tears — the styling is wonky on the recipient's device. That's pretty frustrating and particularly sensitive on mobile, where space is at a premium.
Loss of interactivity
Sadly, only text and graphics get displayed with emails that exceed the 102 KB file size. That means the (potentially) good stuff gets sacrificed, such as dynamic AMP interactivity: accordions, carousels, buttons, and checkboxes. So you have to ask yourself. which is more important: a bunch of copy blocks or some fun, interactive elements? As a potential recipient of email campaigns, you know what looks good and what's likely to get trashed.
It's Not All Bad
Despite all the doom and gloom, there are some exceptions...
Times when it's OK to send a long form email. For example, when retailers send a summary of purchases, rather than trying to sell you something.
Here's a message from a grocery chain that itemizes an order, including images, price information, quantities, and so on:
Yes, it may be slightly annoying to have to click through to see the entire order. Most of the time, people won't even bother. These types of emails are mainly useful as a reference point for item reminders or to clear up a discrepancy in an order.
If your message is still too long, get creative and entice users to click through to see the entire message. This company added a bit of intrigue and a time-sensitive 'push' for readers to see the email to the end:
Image source: Gmail Clips Email. How to Prevent it?
Blinking animations — as irritating as they may be to some people — can work in certain situations. An animated email will likely catch someone's eye. The key is to not make it too busy.
This email makes good use of animation, making it clear where a user should click via a large CTA. And, everyone likes to solve a good mystery.
So, How Do I Relay Important Info Without the Risk of Getting Clipped?
Don't fret! There are clever ways to get around Gmail clipping your emails so you can still present value to your customer. Here are some top fixes:
Keep the content concise
Adults typically pay attention to one task for about eight seconds, so ensure your long form emails are highly scannable.
This means using bullet points, subheads, lists, short paragraphs, and plenty of white space. Keep language simple, conversational, and easy to read (no need to break out the thesaurus).
How about some good news? Images and attachments do not add to the calculated size, so use interactive elements to engage in a concise way. Let's look at the following example from Colgate:
Image source: Prevent Gmail From Clipping Your Email
Super scannable, this email balances graphics and white space, so it's easy on the eyes. The text is minimal, highlighting the important parts of the message.
They've added a video and a well-positioned CTA, as well as prominent (but not too large) social icons. Nicely done!
Provide more info through links rather than copy
Save the in-depth information and case studies for your website. Engage email recipients with content teasers and bullet points.
Break the message up into CTAs and links to direct potential customers and existing subscribers to detailed content. In general this is a solid approach for customer engagement.
Look at what car rental company Hertz did to make a promotional email campaign stand out: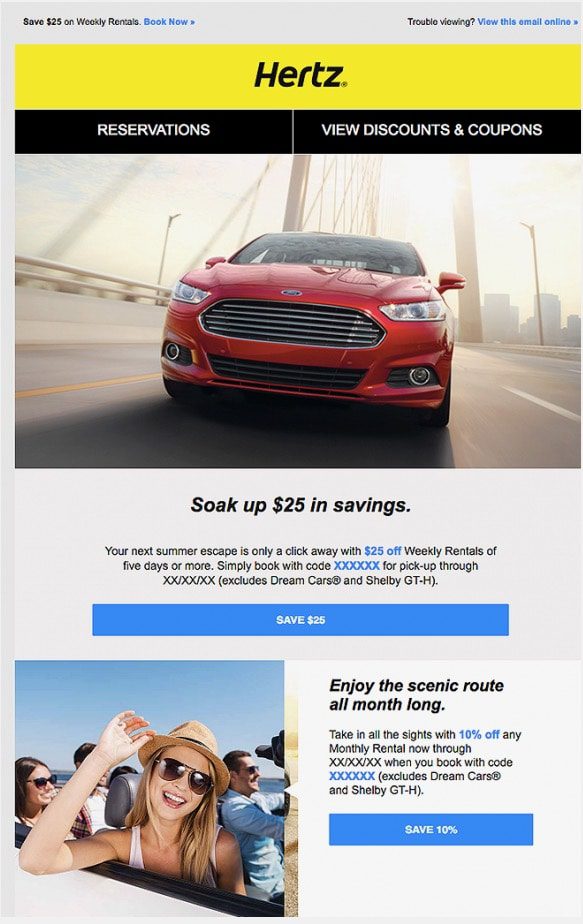 Image source: Prevent Gmail From Clipping Your Email
Snappy photos and scannable text makes this example a winner. They've included all the important information without losing the customer's interest with huge blocks of text or hidden CTAs.
The company also doesn't overload you with too many buttons and flashy elements that distract instead of adding value. Hertz even added a Trouble Viewing? link at the top in case the email design looks wonky on an outdated device.
Avoid directly copying and pasting content
When copying and pasting content from sources like websites or other applications, you might inadvertently be copying extra (invisible) formatting. This extra code can inflate the size of an otherwise 'short' message. Worse, it can cause rendering or presentation errors in your email campaign.
To avoid this common pitfall, and the risk of Gmail clipping your emails, copy and paste as plain text. The same goes for browser extensions such as Grammarly, which can add unwanted code into your email. If spell-check is a must, disable the extension while working on your campaign and use a built-in text editor instead.
Resist over-formatting
Over-formatting is overrated. Do away with multiple font styles, excessive formatting of those font styles, and too many colors. All of these contribute to the KB total of your HTML file code.
Instead, zero in on scannability, readability, and engagement. This means short sentences, bullets, subheads, and one or two interactive elements to engage the reader without overwhelming.
Plus, it will emphasize your CTAs, which is what you want your target recipient to focus on. Simply put, less is more. Microsoft got the memo on that:
Image source: Prevent Gmail From Clipping Your Email
An easy to read, two-toned design gives center stage to the most important part of the email: The video. There's no mixing of fancy fonts or busy templating. The message is clear and it's obvious what the user needs to do if they're interested.
Use a template for your newsletter
Take advantage of an email builder like Dyspatch that makes it easy to set up your campaign with drag-and-drop modules. This is a great solution for email marketers who regularly send emails containing the same amount of content each time.
Another major benefit of using a pre-built template is that it offers a solid foundation you've already tested. Having a templated campaign works especially well with product roundup newsletters, where the focus is more on images and carousels.
Pre-test with Email Guardrails
With Email Guardrails, Dyspatch will tell you about mistakes you've made or opportunities you've forgotten about, before you even start testing your email. While you're still in email creation mode, we'll show you how to avoid having a message clipped in Gmail, remind you to add alt text to your images, hint at options to make your subject line and preheader perform better, and even help you with your localizations. And that is just the beginning.
Test, test... and test again
Testing email content is vital. It helps you evaluate responses, verify timing, experiment with subject lines, and view content on different devices. Shockingly, despite the obvious benefit of seeing a live preview before sending emails, half of marketers never test their emails!
Viewing your emails in real time on different devices (mobile, tablet, laptop, desktop) is a huge time saver. An email creation platform — like Dyspatch — that supports instant testing will keep content looking great for all recipients.
Pro tip: Ensure you don't have the same subject line for more than one campaign. Otherwise, Gmail will group them together as the same email and clip it because the thread is too large. This can also happen with test emails, so change the subject line with each test.
For example: July 4 Sale 1, July 4 Sale 2, etc. You can also delete previous test emails to make extra sure Gmail doesn't pick it up as one email.
Keep the Customer Top of Mind
It may be a no-brainer that short rather than long form emails are the best way to deliver a message. But it all depends on how you tackle it. If it's short but messy, it'll be more distracting than dynamic. If it's longer but scannable, it may be more easily absorbed.
Just remember to keep your email campaigns concise, engaging, pleasing to the eye, and actionable. Use to-the-point copy, one or two visuals, some AMP elements, and a balance of color and white space.
Sounds easy, right? It can be if you invest up-front, so you have a template to work from that's tried, tested, and true. You'll save yourself time in the long run, you'll convert more users and your customers will remain loyal.
Now that's something that shouldn't be dismissed — or clipped.