Localization workflows
Translate emails with XTM International
Design responsive templates with the Dyspatch drag-and-drop email builder, no coding required
Push your templates to XTM International for translation with our direct integration
Sync your translated email templates to your ESP or CRM with one click
Deliver highly personalized, engaging experiences at scale with the Dyspatch email builder and XTM International
Improve your bottom line results with our XTM International integration
Reduce engineering
resources by
95

%
Boost email
conversions by
300

%
Increase email
engagement by
500

%
XTM International
The world's leading cloud-based enterprise Translation Management System
XTM stores all linguistic assets and project data centrally, allowing users to collaborate on translation tasks, leveraging translation memory and terminology in real time. The flexible and automated workflow streamlines work and provides project managers with an up to date view of the project status. XTM is a modular system with an extensive web service API that allows integration with third-party systems.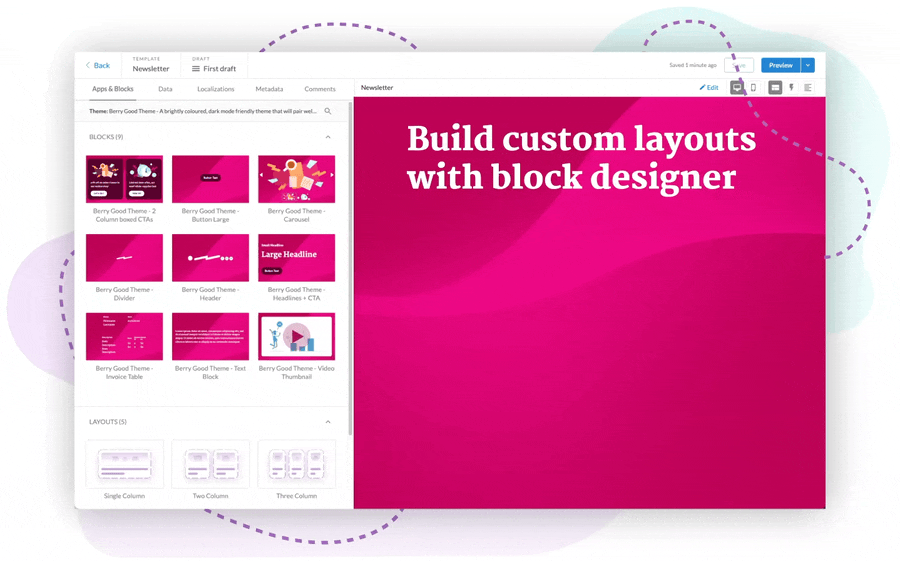 A Powerful, No-Code
Email Builder
Create custom emails without writing code
Get peace of mind with responsive emails

Centralize your entire email production process

Explore flexible integrations with XTM International
Learn more
Localizations
made easy
Centralized production for quality and consistency
Template locking for peace of mind
Save on translated content with reusable blocks
Export to any ESP with confidence
Learn more
Trusted and loved
BY COMPANIES AROUND THE WORLD

"Dyspatch has massively reduced the hours our team spends on creating emails, which has allowed us to really scale our content production. We're producing over 20 emails a week, and the platform ensures every single one is on-brand, localized, and responsive, without any engineering effort. It's also allowed us to implement interactivity with AMP comment reply emails. The Dyspatch team was so supportive and collaborative on that project, and it's been a huge success with our users."
Megan Walsh,
Global Head of Lifecycle Marketing at Canva
"Our design and development teams have not had to update Dyspatch emails since the original set up. Thanks to the easy customization and markup language provided by Dyspatch, our product copywriters have been able to update campaigns without help from the design or development team."
Hector Oropeza,
Sr. Product Designer at CareHive

"Dyspatch is the perfect solution to manage the email building and template creation process. Combined with Braze, it creates a holistic workflow for localizations and scaling our email channel."
Karan Gupta,
Head of Retention at Grover

"The thing that's most impressed me about Dyspatch is that the team's been able to keep it a really simple product to use. It just fits perfectly, solving an extremely important problem that lots and lots of companies have – managing email content."
Dave Greenstein,
Chief Architect and Head of Growth at Urbandoor
Have more questions about Dyspatch and XTM International?
Dyspatch takes XTM International to the next level. Learn more about this powerful email translation & localization tech stack below.